Cold Bonded Wear Panels
QMX Wear Panel solutions are ideal for a wide variety of mining, mineral processing and material handling for protection against extreme wear.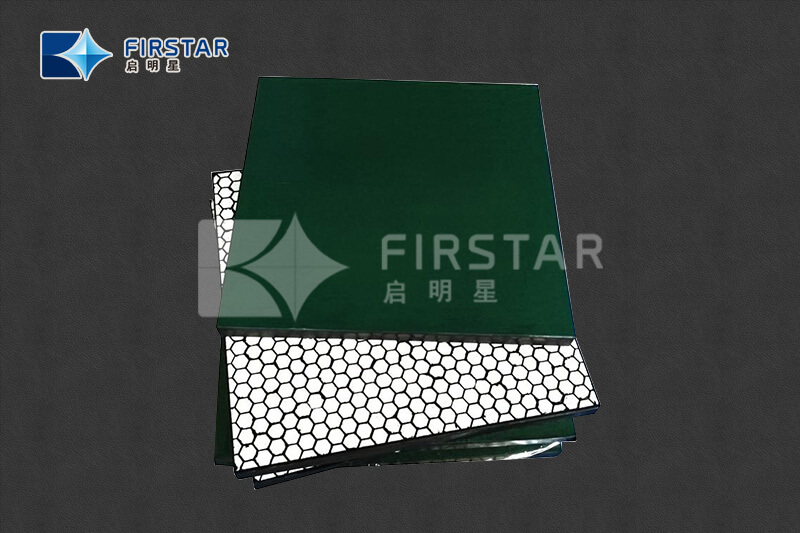 Application
Typical application examples:
· Chutes
· Cyclones
· Launders
· Pipes and tanks
· Conveyor transfer points
· Screen beams, underpans and components
· Vibratory feeders
Key features and benefits
· 92% Aluminium oxide material.
· Rubber compound blended with CN polymers.
· Buffed CN bonding layer and buffed edges.
· Manageable size and weight. Strip width 250mm makes it easy to install.
· Fire resistant and antistatic (FRAS) rubber compound available.
· Low sulphur rubber.
· Ceramic tiles bonded to rubber on all sides (except top surface).
· Supplied in square panels 500mm x 500mm.
· Extreme wear resistance.
· Outstanding adhesion to ceramic tiles, rubber and metal.
· For optimum cold vulcanised adhesion.
· Can be used in above and below ground applications.
· Stable rubber hardness with age.
· Resists tile cracking and pull out.
· Easy to install.
Rubber,Ceramic&Steel Specification
S.No.

Material

Attributes

Properties

1

Ceramic Tiles

Material

92%, 95%, T95%,99%, ZTA

2

Rubber

Component

Natural rubber, nitrile-butadiene rubber ,Flame Retardant ,others

Density

~1.4g/cm3

Tensile strength at break

≥10.6Mpa

Elongation at break

≥350%

Shore Hardness

45-65

Adhesive between tile and rubber

≥3.8 Mpa

Adhesive between rubber and equipment

≥3.58Mpa

Thermal conductivity.(normal temperature)

2w/m·k

Aging period

≥15 Years

Working temperature

-50ºC - 200ºC

3

Steel plate

Material

Q235A

Density

7.85g/cm3

Thickness

3-10mm

4

Adhesive

Appearance

Brown glutinous liquid

Solid content

20±3%

Viscosity

≥2.5 Mpa

Peel strength

48h N/2.5cm≥120

Compressive strength

≥850 Mpa

Working temperature

-20ºC - 100ºC