CERAMIC PIPE LINING Y-Type Tee
Monolithic & Mosaic Advanced Ceramics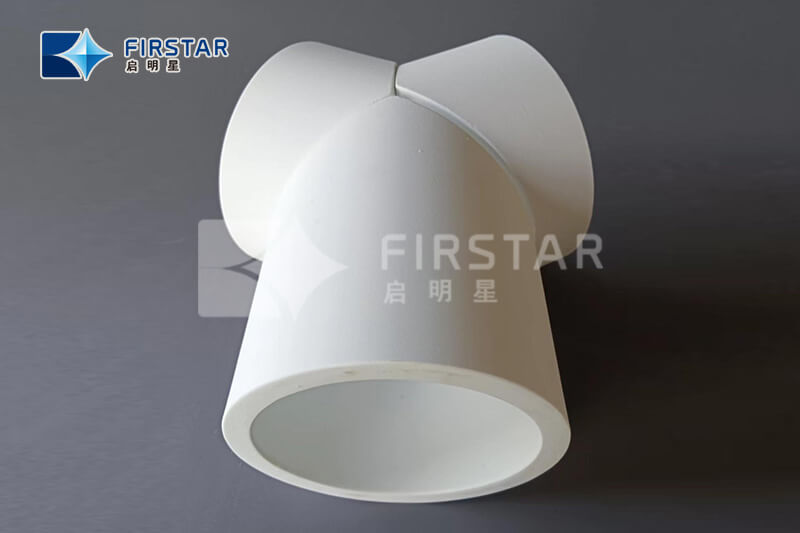 QMX Ceramic Solutions offers a range of ceramic materials for your pipe lining applications. QMXcan offer advanced ceramic materials in both monolithic and mosaic forms for your pipe and equipment lining applications.
QMX Ceramic Solutions offers a complete material portfolio of ceramic materials including; Aluminum Oxide, Zirconium Oxide, Zirconia Toughened Alumina and a variety of sintered and reaction bonded Silicon Carbide compositions for your extreme corrosion, abrasive and wear environments. Carbon-Graphite bearing and seal face materials are also available upon request.
Application range
· coal pulverizing system of power plant pipeline, including, powder transmission pipeline, thick powder separator pipeline, coal drop pipe, combustion system of a wind pipe, a secondary air pipe, three pipeline and burner pipelines, in addition to ash slagging system the discharge pipe, powder pipe, dry ash conveying pipe;
· iron and steel plant raw material conveying pipeline, collecting pipe, dust pipe, ash pipe, ash pipe, mixing pipe, grinding export pipeline, coal pipeline, coal pipeline, separator pipe, burner radius pipe, etc.;
· cement plant selection machine outlet pipe, choose machine inlet pipe, pipe dust pipe, vertical mill outlet pipe, circulating air duct, high temperature air blower, lower material pipe, etc.;
· petroleum, chemical, mining, coal, coal washing plant, smelting, paper, aluminum, building materials, powder engineering, food machinery and other processing and conveying material pipe.