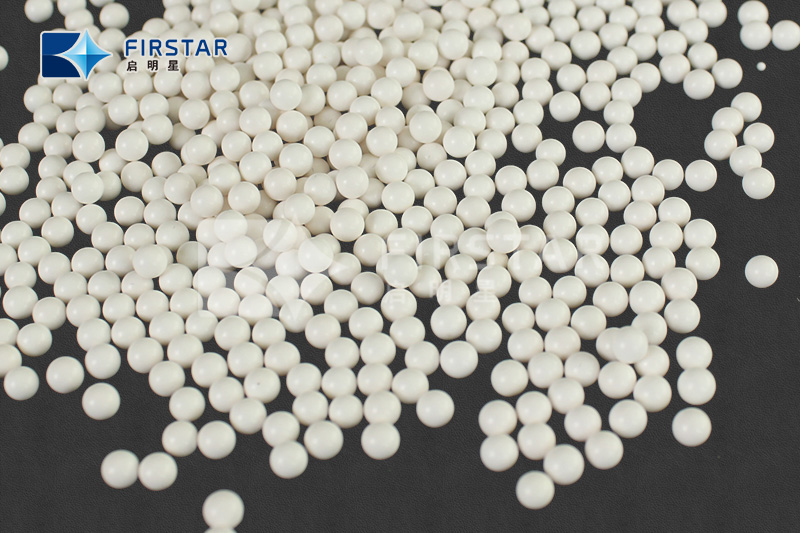 Zirconium Toughened Alumina beads & balls are unique products, developed by our R&D team after several years of research and experiments. We adopt our experienced roll / granulation method for forming this type of products to make it specifically suitable for Mining wet grinding applications. Proved by many comparison wear rate tests, ZTA shows 4 - 30 times better in wear resistance than various quality High Alumina ( 90 - 92 % Al2O3 ) grinding media in global market, and its similar density enables this product to substitute High Alumina media very well.
■ZTA (ZrO2-Al2O3) Medium Density Ceramic Grinding Media
Advantages:
-Optimal density
-Compatible with all mill types
-No breakage of the grinding media
-Higher milling efficiency
-Low wear rate
-Economic advantage
Applications:
High Tech ceramics
Contamination free milling
Special Products or raw material
preparation
- Technical ceramics -
-Pigments. Paints
-Dielectric materials
- Electro ceramics -
-Production of printing and inks
-Piezoelectric materials
- Refractory materials
- Coatings
- Magnetic Materials
- Coating Materials
- Paper industry
- Minerals
- Agro Chemicals
Packing :
1. 25kg/bag,40bags on 1 pallet (Plywood pallet)
2. 1000kgs/jumbo bag, 1 bag packed on 1 pallet. (Plywood pallet)
3. 2000kgs/jumbo bag, 1bag packed on 1 pallet. (plastic pallet)
Delivery:
The grinding media is delivered in container of 20'FCL.
Storage:
The grinding media should be stored in a dry and clean place.
Support:
Please do not hesitate to contact us if you need further technical information about milling processes or applications.

Mining Ceramic Grinding Media
Name:Simon Bailey
Email:sbailey@keramos.com
Tel:+44 7919 001864

Non Mining Ceramic Grinding Ball
Email:info@chinaqimingxing.com
Tel:+86-533-3591856