Abrasion Resistance Ceramic Lining Pipe
Abrasion resistance ceramic lining pipes are designed and lined with high quality alumina ceramic material like alumina rings. The abrasion resistance ceramic lining pipe as a whole part, and then assemble it into the steel pipe with our high-strength-temperature-resistant epoxy adhesive. The pipe consists of three layers: smooth ceramic lining (compact corundum), ceramic and metal transition layer and the outer steel pipe. We can produce abrasion resistance ceramic lining pipe as per customer's requirement and application.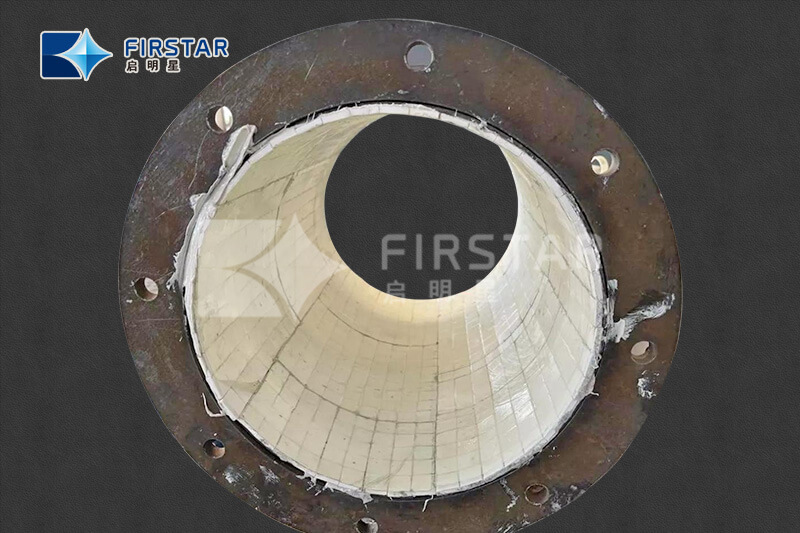 Alumina ceramic specifications
Chemical Composition and Physical Properties

Composition

Al2O3

≥92%

≥95%

Specific Density(g/cm3)

≥3.60

≥3.65

HV Hardness HV20 N/mm2(MPa)

≥980

≥1000

Rock Hardness HRA

≥82

≥85

Bending Strength (MPa)

≥220

≥220

Compressive strength (MPa)

≥1050

≥1300

Fracture Toughness MPam 1/2

≥3.70

≥3.8

Wear Volume(cm3)

≤0.25

≤0.20c

Packing

Ctn box with pallets

Customized Tiles can be made.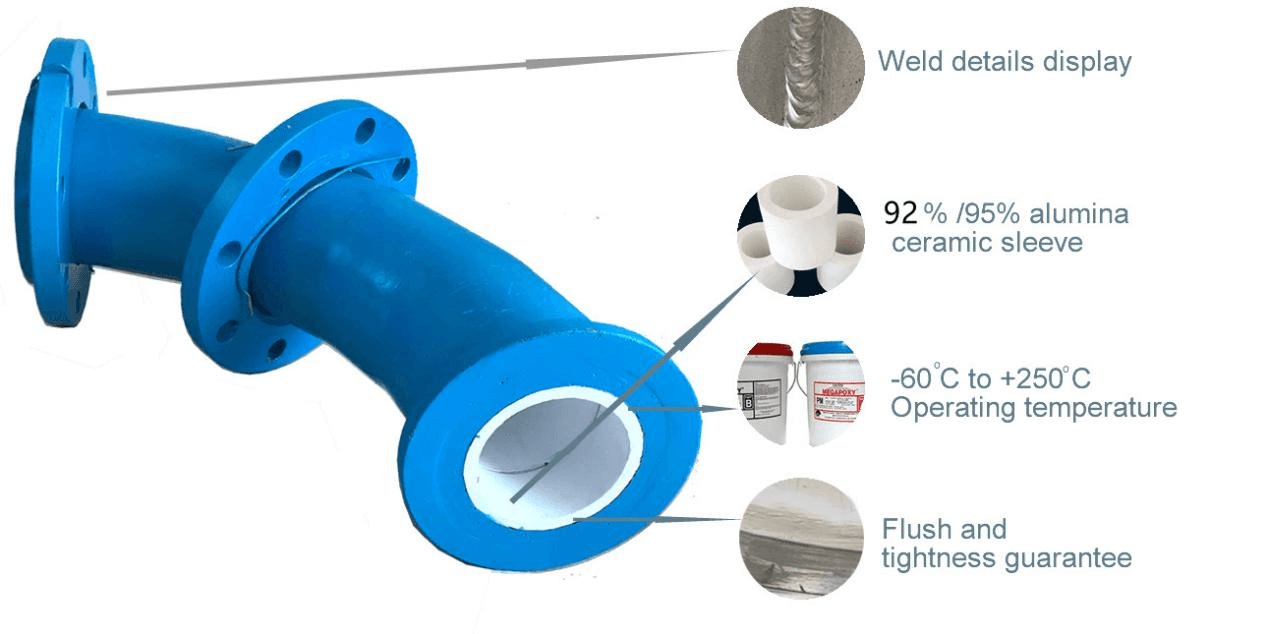 The most common applications of ceramic sleeve lined pipes
| | |
| --- | --- |
| Industry | Material |
| 1. Abrasive products | Grinding wheel granules |
| 2. Aluminium plants | Calcined alumina, bauxite, electrode, carbon, crushed bath |
| 3. Iron & Steel | Sinter dust, limestone, lime injection, coal, iron carbide, alloy additives |
| 4. Mineral wool & insulation products | Perlite, stone dust, refractory fibers, production wastes, dust from sawing operations |
| 5. Foundries | Molding sand, dust collection |
| 6. Glass plants | Batch, cullet, quartz, kaoline, feldspar |
| 7. Breweries, grain processing, feed mills | Corn, barley, soy beans, malt, cocoa beans, sunflower seeds, rice hulls, malting plants |
| 8. Cement | Clinker dust, limestone, cement, fly ash, coal, blast furnace slag |
| 9. Chemical plants | Caustic lime, fertilizers, lime dust, chrome ore, paint pigments, plastic pallets with glass fi bers |
| 10. Mineral mining plants | Kiln feed, ore concentrate, coal tailings, dust |
| 11. Coal fired power stations | Coal, fly ash, pyrites, slag, ash, limestone |
| 12. Coal mines | Coal dust, mine waste for backfi lling |
| 13. Technical carbon products | Technical carbon, dust, graphite for electrodes |