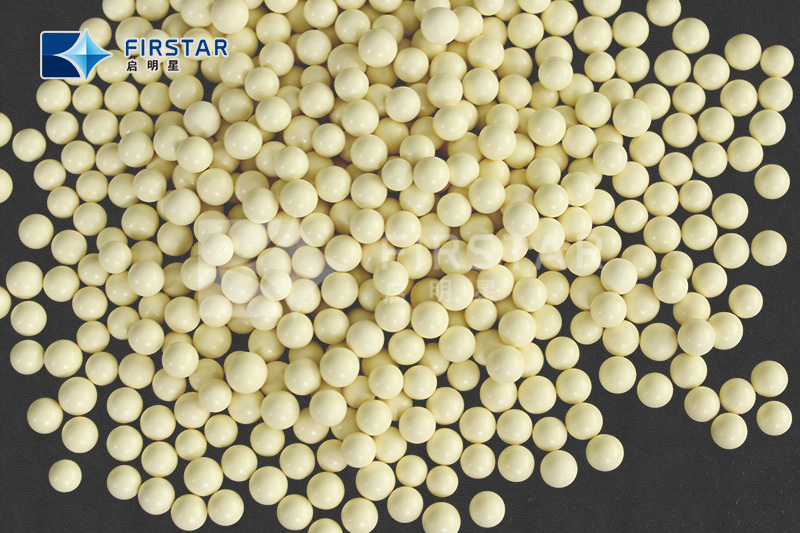 Zirconium Silicate (ZS)Grinding Bead
Ultraming ZR-400 Ceramic Beads are specially designed for superfine grinding mills with high speed and energy input.
Ultraming ZR-400 Ceramic Beads are ideal combination of high grinding efficiency and low wear rate. It can be widely used in energy intensive mills.
Application:
1. Metallic minerals like Copper, Silver, Nickel, Gold, Zinc, PGM, Lead, etc.
2. Non-metallic minerals like Graphite, Calcium Carbonate, Kaolin Clay, Zirconium Silicate, Titanium Dioxide, Gypsum and Quartz, etc.
3. Advanced Ceramic Materials, Frits and Glazes.
4. Chemical Material, Paint, Pigment, Printing Ink, Dye.
Specification:
| | | |
| --- | --- | --- |
| Density | g/cm3 | > 4.0 |
| Packing density | g/cm3 | > 2.4 |
| Vickers Hardness | Kgf/mm2 | 1,000 – 1,050 |
| Roundness | % | > 95 |
| Standard size* | mm | 0.5-13 |
| Chemical compositio | | Al2O3, ZrO2, SiO2 and others |
* Other sizes are available upon request
Packaging:
Standard: Net 1,000 KG in 1 Jumbo bag, 2 bags packed on 1 pallet, 20MT/20'FCL

Mining Ceramic Grinding Media
Name:Simon Bailey
Email:sbailey@keramos.com
Tel:+44 7919 001864

Non Mining Ceramic Grinding Ball
Email:info@chinaqimingxing.com
Tel:+86-533-3591856