Large Ceramic Bead Filled Epoxy/Ceramic Wearing Compound
QMX's wearing compounds are unique patented epoxy resin systems containing diamond hard
ceramic beads that resist sliding abrasion.
DIRECTIONS FOR USE- Surface preparation:
Proper surface preparation is critical to the long term performance of this product. The exact
requirements vary with the severity of the application, expected service life, and initial substrate
conditions.
Type:
Ceramic bead size: 0.5-1mm, 1-1.5, 2mm
Technical Data
| | |
| --- | --- |
| Item | Index |
| Color | Grey(White Grain) |
| Density(g/cm3) | 2.0 |
| Weight Ratio(A:B) | 2:1 |
| Operating time(min) | 10~30(can be customized) |
| Full cure time(h) | 4~24(Depend on Temperature) |
| Hardness after solidify(Shore D) | 100.0 |
| Compressive strength(Mpa) | 111.0 |
| Shear strength(Mpa) | 32 |
| Working temperature(℃) | -20~80(Customized for high temperature) |
Instructions &Application
1.On all vertical or overhead applications, tacking welding expanded metal mesh onto the metal
substrate is strongly recommended prior to application of Wearing Compound. 2. Clean, dry, and
abrade application surface. The more thorough the degree of surface preparation, the better the
performance of the application. If possible, it is recommended that the surface be grit blasted to a
Near White Metal(SSPC-SP10/NACE No.2) Standard. For less severe applications, roughening the
surface with hand tools is suitable.
Mixing:
1. Measure 1part resin to 1 part hardener by volume or weight on a clean and dry mixing surface and
mix together until uniform in color.(If resin and hardener temperatures are 15 ℃/60℉ or below,
preheat resin only to about 21℃/90℉ but not to exceed 37℃/100℉) . 2.Immediately after abrasive
blasting, rub a thin layer of material onto the surface to "wet" for good adhesion.
Operation:
1. Apply fully mixed material to the prepared surface.
2.Initially apply the material in a very thin layer
to "wet" out the surface and avoid air entrapment.
3. At 25℃/77℉, the working time is 30 minutes.
Working and solidify time depend on temperature and mass; the higher the temperature, the faster
the cure time .
4.Functional cure time is 4 hours at 25℃/77℉.
5.CAUTION! Use approved, positive
pressure, supplied-air respirator when welding or torch cutting near cured compound. Use approved
self-contained breathing apparatus when burning,welding, or torch cutting indoors near cured compound. Use approved respirator for dusts and mists when grinding or machining cured compound.
DO NOT use open flame on compound. See other cautions on Material Safety Data Sheet.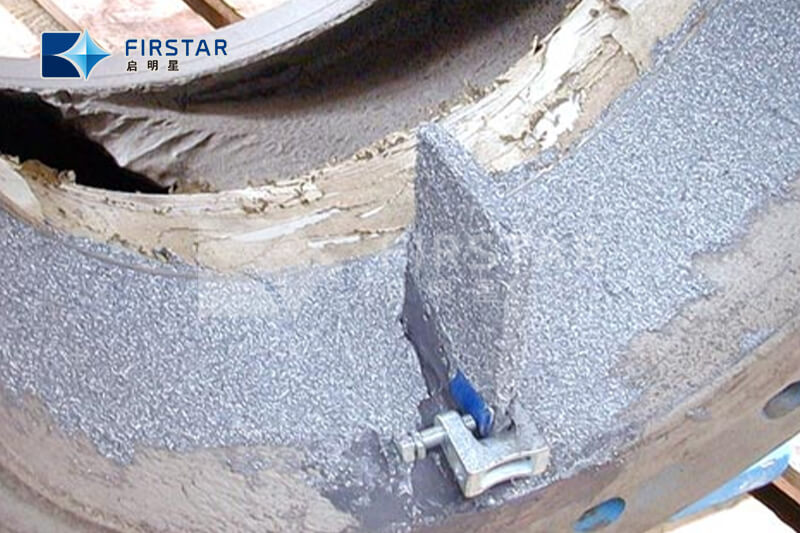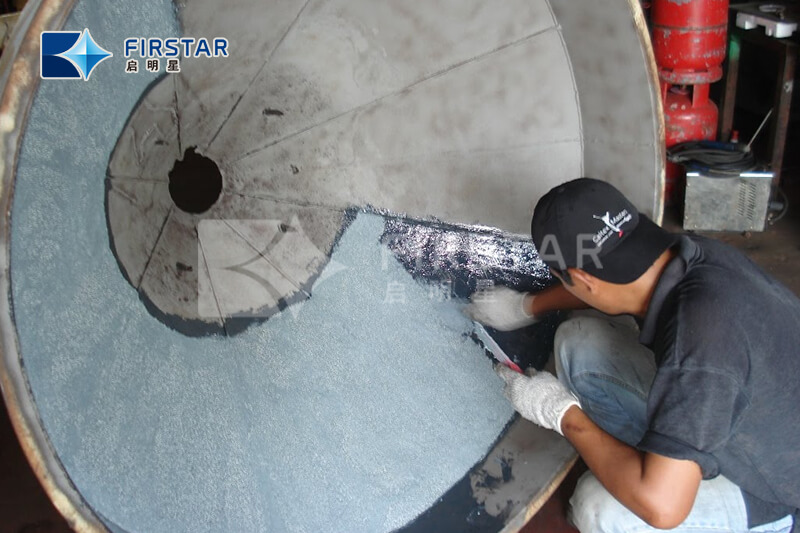 Applications:
1. small particles of ceramic compound is generally used in a place where there are wear and corrosion,
such as slurry circulating pump, high sediment concentration of the pump, pipe, elbow rapid repair.
2.Desulfurization pipeline wear and tear repair, and now the pipeline is generally used vulcanized rubber,
but its wear resistance is in general, disassembly and transportation is not convenient, long maintenance cycle. These problems can be solved using the ceramic wearing compound.
3. fly ash pipeline repair, sewage pipe lining, conveyor screw and other mechanical parts.
Packing